Satellite "Meridian" fell in Siberia


19:10 / 23.12.2011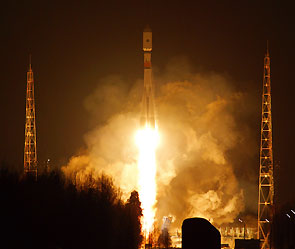 Photo: ITAR-TASS
Spacecraft communications "Meridian" fell Friday evening near Novosibirsk. According to preliminary reports, the victims and destructions. The probable cause was the loss of a satellite failure of third-stage engine booster.
Russia's Defense Ministry has officially confirmed the loss of the satellite, launched from the cosmodrome "Plesetsk". "Meridian" is a dual-spacecraft, designed for both military and civilian targets. Held on Friday launched a satellite of this type was the fifth since 2006, occurred prior to May of this year and was successful.
According to the Troops and Space Defense, Colonel Alexei Zolotukhin, cause loss of the satellite were problems in the motor carrier rocket "Soyuz-2". "At the 421-th second flight as a result of abnormal third stage propulsion rocket" Soyuz-2 "spacecraft is not excluded into the proper orbit," - he said.
Causes of abnormal engine operation sets the state commission, reports RIA Novosti . Currently, the wreckage of the spacecraft were found in four locations Orda region of Novosibirsk region.
As reported by the Khrunichev Center, a catastrophe, "Meridian" will not affect preparations for the launch rocket "Proton-M" with the Dutch telecommunications satellite SES-4 (NSS-14). On Friday, the state commission has decided to take out December 24 rocket launch complex at Baikonur site 200, where he continued his preparations for the launch, scheduled for December 26.
Recall that previous serious accident took place 24 August this year. Carrier rocket "Soyuz-U" with a space truck "Progress M-12M" took off from Baikonur, but for 325 seconds of flight, crashed in the propulsion system and emergency shutdown. As a result, the ship crashed in the Altai Mountains , death and destruction on the earth was not.